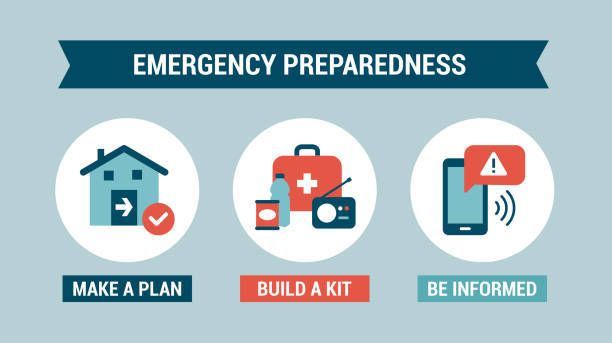 Emergency Response
TRPHD works to advance preparedness activities, by working with communities, hospitals, agencies, and organizations in order to prepare for and recover from a potential disaster.
Emergency Response activities include developing and testing plans for responding to disasters in an effort to protect the Two Rivers Public Health Department district from health threats.  Emergency Response also involves working closely with other agencies and organizations to best serve the citizens living the in the Two Rivers Public Health Department district.  Preparedness activities can inform the response time of the community to provide lifesaving help and resources to individuals who are in need. Through collaboration with community partners, clinics, hospitals, agencies, and organizations Two Rivers Public Health Department has the ability to assist with coordinating a collaborative response to emergencies.
What We Do
Our emergency response program engages in collaborative, community focused public health emergency planning. The Emergency Response Coordinator develops plans that will help TRPHD detect, respond to, and recover from health emergencies. These plans work in cooperation with the activities that TRPHD performs routinely such as disease surveillance, health education and environmental health services.
The Emergency Response Coordinator performs the following activities to enhance the ability of TRPHD to respond efficiently and effectively to public health emergencies:
Make A Disaster Plan
By creating a family disaster plan, you are taking the first step in preparing your family for an unexpected emergency that may occur. A family disaster plan should be reviewed and updated every six months or as major changes happen in a family. The plan should be in an easily accessible location for all in the family and every family member, including children, should know where the plan is at and the basic information included in the plan. 
This template is intended to give you a format and possible suggestions about information you might want to include in a family disaster plan. It is not all inclusive and should be modified by the user to suit individual or family needs.
For more information on creating a Family Disaster Plan, visit https://www.ready.gov/plan
Build A Disaster Preparedness Kit
Make sure your emergency kit is stocked with the items on the checklist below.  Most of the items are inexpensive and easy to find, and any one of them could save your life.  Headed to the store?  Click HERE to download a printable version to take with you.  Once you take a look at the basic items, consider what unique needs your family might have, such as supplies for children, seniors, or pets.
After an emergency, you may need to survive on your own for several days.  Being prepared means having your own food, water, and other supplies to last for at least 72 hours.  A disaster supplies kit is a collection of basic items your household may need in the event of an emergency.
Basic Disaster Supply Kit
To assemble your kit, store items in airtight plastic bags and put your entire disaster supplies kit in one or two easy-to-carry containers such as plastic bins or a duffel bag.
A basic emergency supply kit could include the following recommended items:
Additional Emergency Supplies
Consider adding the following items to your emergency supply kit based on your individual needs:
Maintaining Your Kit
After assembling your kit remember to maintain it so it's ready when needed:
Kit Storage Locations
Since you do not know where you will be when an emergency occurs, prepare supplies for home, work and vehicles.
Two Rivers Public Health Department District Emergency Managers
Buffalo
Darrin Lewis, Director
2025 Avenue A
Kearney, NE 68847
308-233-3225
em@buffalocounty.ne.gov
Dawson
Brian Woldt, Director
700 N. Washington
Lexington, NE 68850
308-324-2070
brian.woldt@dawsoncountyne.org
Franklin
Jerry Archer, Director
P.O. Box 292
Franklin, NE 68939
308-425-6231
sheriff@franklin.nacone.org
Gosper
Roger Powell, REG 17 Coordinator
912 R St., P.O. Box 408
Beaver City, NE 68926
308-268-5088
furnasem@atcjet.net
Harlan
Chris Becker, Director
706 Second
Alma, NE 68920
308-928-2147
hclaw@harlan.nacone.org
Kearney
Craig Lupkes, Director
402 Main Ave., P.O. Box 7
Minden, NE 68959
308-830-0589
em@kearneycounty.org
Phelps
Justin Norris, Director
715 Fifth Ave., Suite 22
Holdrege, NE 68949
308-995-2250
emdirector@phelps.nacone.org
Upcoming Training / Exercises / Drills
Planning stages for a table top and full-scale exercise as a regional Emergency Response Group.
Planning stages for a table top exercise and full-scale exercise in Kearney.
(Details to follow)